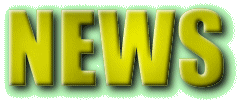 latest news
Don't forget the emulation news too!
5/4/03
I thought it might be nice to have an update in 2003 - after all, we're over 3 months in. Sorry for my lack of interest but it does more or less accurately reflect the lack of going-ons. If you want updates rather than the archive of information on this site you're best checking out Acorn Arcade
Doom It Yourself is now on version 4.4, adding 32-bit compatibility and bilinear resampling to the existing build-it-yourself Doom port.
Theo v/d Boogaert has added some new game patches to his website, including ones for Boogie Buggy, Warlocks and Dungeon.
Nex has released some free games for RISC OS - check out the website.
Tek now (as of late February...) works with Viewfinder cards.
A second release of the Tek Pyro update is also now available (er, well, since late January) from Artex's website, which fixes some bugs. I did update my review of Tek to take account of the Pyro update and do various screenshots, but that version is still sitting on my computer about 75% complete. Impressive, I know.
David McEwen (he of all the emulators) worked on a port of Elite TNK - The New Kind but it isn't available for download due to David Braben, original Elite co-author, requiring it not be made available - see http://www.newkind.co.uk.
Rik Griffin has put up a tutorial for the Popcorn sprite-plotting library.
I think it's probably fair to admit that I don't have any plans to update this site regularly from now on - the Acorn games scene is more or less dead (other than the occasional non-commercial effort) and so it's no longer much of an interest of mine. Thanks to the generosity of Richard Goodwin at onepointnought the site will stay online for the foreseeable future as an information resource, and I'll probably put the odd update online from time to time - much like this one, in fact!
One other thing - Acorn Gaming is 10 years old this year, and that makes it one of the longest lasting web sites on any subject. It's certainly the longest-running Acorn-related website too, once you exclude pages that have remained completely static for long periods of time (matters of years, I mean). The official birthday is actually November 2003, however.
19/12/02
Artex have announced a new version of Tek due for imminent release. Named the Pyro Update this free upgrade fixes the remaining issues with the previous release and adds in some of the technology which Artex didn't have time to squeeze into the original release, such as improved pathfinding and artificial intelligence. There are also extra weapons such as rockets and lasers, presumably thus the Pyro of the title! Now that's not bad for free... keep an eye on Artex's site.
Not gaming news, but if you rarely keep touch with things Acorn then you might have missed the news of a new computer being released - and when I say released I mean actually available! Find out more at The IconBar and Drobe Launchpad, or check out the official Iyonix PC site.
6/10/02
Alex Macfarlane Smith has resurrected his StrongARM patches page and updated with even more patches than it had before, including his new one for Simon the Sorcerer which will now work with a StrongARM/RISC OS 4/Select (and with music).
Christopher Bazley's continuing hard work on improving Star Fighter 3000 further continues to pay dividends and a new version is now available for download from his website as a patch for the more recent iSV commercial rerelease. Version 2.04 improves the sound modelling and provides additional options as well as reinstated support for 8-bit sound if you need it. There are also various bug fixes.
23/9/02
Finally put a full Tek review online - sorry for the delay! (due to various reasons, none of which are particularly exciting - apologies to Artex for the length of time it's taken)
1/7/02
A new shareware Othello game has been released for RISC OS by new group Little Yellow Moon. Called Desdemona, it features a variety of computer players although for the really tough ones you have to pay £4 for the registered version. See their website.
Chris Bazley has developed a new update for the commercially rereleased version of Star Fighter 3000, bringing the version number up to 2.03 and adding lots of improvements to the sound and more extensive animations. Also new in this release is the ability to save the configuration and high scores, as well as easier to use cheats and support for analogue and switched joysticks. Check out his website. (temporarily offline at the time of writing)
Fantasia Fan have released a new version of their free sprite plotting library, FANlib, available from their website.
30/5/02
Fans of the classic Repton games might like to know that it's coming to next generation mobile phones and PDAs later this year thanks to a deal signed by Masabi with Superior Software to licence the game and 32-bit version artwork - all 144 Repton 3 levels will feature! The game is intended to be free with a small charge for each additional level you download. There will also be a web site level editor so you can make your own levels and graphics publically available. Meanwhile Masabi are also keen to convert other classic Superior titles, so if you have any suggestions they'd like to hear from you (check their website for contact details) - current ideas include Pipeline, Ravenskull and maybe Thrust.
You might like to take a look at a new free strategy/puzzle-type game called Gems, available from the author's website
Iain Waugh reckons you should take a look at his rereleased free 1995 release, Firebolt - you can download the game and a screen designer from his website.
25/5/02
Artex have released their first patch for Tek, available from their website. This fixes the crashes some people were experiencing, including those when saving the game and producing new units, and problems with credits have also been fixed (headquarters now cost 250 not 2500 credits, and you can't have negative credits any more). Also a welcome pause feature has been added - use 'P' to pause and unpause the game. Artex are also pleased that the game sold well at Wakefield, so maybe the missing network play features - which are promised if enough sales are achieved - could eventually be on the way!
14/5/02
Tek will make it to this weekend's Wakefield show! As I write R-Comp are busy making the CDs from the release version of the game that Artex have finalised. I've tried this new version and it is definitely faster than the preview I had last week so it's now just fast enough to play on a Risc PC 700, although it still definitely prefers a StrongARM! Official requirement is for a "RiscStation R7500, 16 MB RAM, 60 MB harddisc space, CD drive" whilst the recommend spec is "StrongARM RiscPC, 16 MB RAM, 2 MB VRAM, 60 MB harddisc space, CD drive ". Based on initial plays the game seems like it lives up to most expectations, but look out for a full review in the near future! [An earlier and more detailed version of this news story was lost in a file corruption]
Version 1.38 of Ian Macfarlane's desktop card game Vingt et Un is now available - see the website at http://21.riscos.org.uk - and will be on sale at Wakefield. Features include a tutorial and a range of graphics to choose from, and the game is priced at £10 with a demo version available. [An earlier and more detailed version of this news story was lost in a file corruption]
8/5/02
I've been playing a prerelease version of Tek, so I can tell you that it definitely exists and it's looking promising! The ability to draw patrol paths and then attach troops to them is particularly nice. The version of the game I have isn't 100% optimised yet so I imagine it will be a few days yet before it's being sent out - in fact this version is just slightly too slow to play on an ARM710 machine unless you're rather patient, but Artex tell me that they'll have a faster version possibly within 24 hours. So it's all looking good - more news as I get it and once I've had more time to playtest, but not until Monday. Typical - no news for ages and then a big event comes along whilst I'm away! :) [An earlier and more detailed version of this news story was partially lost in a file corruption]
15/4/02
Well, Tek hasn't quite made its scheduled release date (of today!), but apparently it's very nearly here! Artex say that the game is finished but the installer and manual are yet to be completed, with the first delivered copies arriving at the end of the month or early May. People who've preordered will now be contacted with payment details, and will receive their copies first. In addition, anyone who orders by April 29th will receive a mystery bonus item. The retail price is now fixed at £30 and can be the game can be ordered either from R-Comp or from Artex. See Artex's website for more details (or take a look at the old preview)
5/4/02
David McEwen has upgraded his ScummVM LucasArts adventure game player to version 0.50 (10th March). This now features music in most games and uses the latest source - as a result, Sam and Max is now fully playable and a bug with Monkey Island 1 has been fixed, amongst other things such a high-resolution mode. David's also working on a multi-format movie player for RISC OS - more details on his website.
Alex Macfarlane Smith has released a new version of DoomWAD, a program which allows you to extract Doom WAD files into directories and then put them back together again. It's on his website.
There's a patch to let Cannon Fodder run on StrongARM+RISC OS 4 machines at http://aardvark.mine.nu/canfod.zip, also courtesy of Alex, as well as new patches for Fire & Ice, Gribbly's Day Out, Enter the Realm, Paradroid and Simon the Sorcerer on Theo v/d Boogaert's site at http://www.vd-boogaert.myweb.nl/. Also check out Alex's StrongARM game patches page.
Fantasia FAN have released a 32-bit sprite library for RISC OS - it's available for free download from their website, along with the assembly source.
And last but not least, congratulations to Katherine Elliott who has just been picked out of the electronic hat as the winner of the TEK T-shirt competition! The official release date is now very near - April 15th!
20/2/02
Artex have just announced the release date of TEK. After more than four years of development, the game is due to be released on the 15th of April (this year!). TEK is a realtime strategy game which features multiple cameras and various in-game units and levels, and Artex state that it "will be released on CD, suitable for all state-of-the-art RISC OS computers, such as the RiscStation R7500, the RiscPC (including the Kinetic), the Mico, and the Omega. The game runs in screen resolutions of 640x480 up to 1024x768." Also, as previously announced here, the game will come complete with the full versions of Ankh, Exodus, Botkiller and Botkiller 2. The final price is not yet fixed but will be around the £30 mark.
22/12/01 - Tek update
[Update: This competition is now closed] You can now enter Acorn Gaming's competition to win an exclusive TEK T-shirt - just click here! In addition, Artex have updated their website with the latest screenshots and additional details about the release version of TEK.
20/12/01 - the last big release?
The eagerly awaited real-time strategy game TEK 1608 is almost here!

Artex are now all set to consolidate their excellent reputation built on the success of Ankh, Exodus and Botkiller 2 with the release of TEK shortly after Christmas. Orders are now being accepted for what must be one of the most anticipated RISC OS titles of all time - and what will sadly also probably be the last major release ever seen on this platform. TEK comes bundles with lots of extras, and if you pre-order (which requires no deposit) then not only do you get full versions of Ankh, Exodus and Botkiller 2 (plus editor) which will be included with every copy of TEK, but you'll also get an additional mystery gift too - Artex describe it as "a little goodie". Retailing at £30, you can preorder either via rci@rcomp.demon.co.uk or tek@artexsoft.com. The game will also reveal what the titular 1608 refers to - Artex previously ran a competition to guess what it meant, which noone won!

Look out not only for a review on Acorn Gaming in the new year, but also a chance to win an exclusive TEK T-shirt over the Christmas break - full details in the next day or few, along with some new screenshots taken directly from the release version. Also check out Artex's website, which is due to be updated very soon.
5/12/01
David McEwen has clarified the comment on his website about further work on Acorn stuff referred to in the story for 4/12/01 below. He's aiming to finish with a few things after giving them a final update, then next year he'll heavily scale down his work until it all stops. He says "This decision was not based upon feedback (or lack thereof), but due to my immense disillusionment with the platform and its lack of direction." So why should you care? Just take a look at David's website and observe the huge range of emulators and game playing software he's ported or created. (He's happy to receive comments on this decision).
4/12/01
An update to the story on the 14/11/01 below about the new games library being ported to RISC OS. I've since played a game compiled using a test build of this library and I'm pleased to report it's looking promising - well, it works at any rate although there are still a few issues to be resolved such as adding sound. More news on a release date for the first of these games when I get it.
Kevin Bracey's adventure game player Zip 2000 has been updated again to reach version 1.41, adding drag and drop file handling to integrate it even more tightly with the RISC OS desktop. You can download the new version from his website (or Acorn Gaming).
If you like playing patience card games then you should check out Vingt et Un from Ian Macfarlane via the website at 21.riscos.org.uk
I updated the copy in the Download section a couple of weeks ago, but just to note that David McEwen's port of ScummVM, the LucasArt point-and-click adventure game player, was updated to version 0.31 which fixed a timing bug in the first release. David's hoping to make a new release soon but hints on his website that due to lack of feedback he may soon stop working on RISC OS ports of emulators and game players, which would be a shame!
14/11/01 - lots of news!
After over three years without an update, Kevin Bracey has updated Zip 2000, his RISC OS Z-code adventure game interpreter. It now supports even more features in some games, but it was already very impressive - click here for more details. You can download the new version from his website.
Not only is David McEwen responsible for bringing more emulators than can be counted to RISC OS (over 20!), but he's now also added a port of ScummVM to the collection available on his website. This isn't an emulator, however (see the emulation news for details of his latest work in that area), but an application which lets you play classic LucasArts mouse-driven graphical adventure games (in the vein of Simon the Sorceror et al) such as Monkey Island and Day of the Tentacle. You'll need to get hold of the PC originals, but these are available incredibly cheaply now due to their age and in compilations of multiple games. Due to its required spec you'll need a Risc PC or later to run it. Download it now from his website.
Artex's TEK didn't make the RISC OS 2001 show and has now been rescheduled for a release this Christmas - and it might actually make this release date since Artex say that it's now very nearly complete and is currently undergoing beta testing. They're not expecting to release a demo version prior to the final release, however. (Meanwhile, Artex's Iron Dignity website hasn't been updated since March but it seems unlikely that this will see an Acorn release now.)
Paradise, publishers of those neat little games Inferno and Overload, have announced a special offer on these two games - you can now buy either game for just £5 or both for only £8. Both these games come highly recommended. Paradise are also selling their parallel port joypad interface for £12.99 and have also announced a graphics tablet - see their website for further details. They'll also sent you a disc with information and demos if you mail them a pound coin to the address on their website.
If what I've been told is accurate, then RISC OS could soon be seeing quite an influx of newly ported free games thanks to work on implementing a reasonably widely-used games library of graphic and other routines (the relevant site currently lists over 150 games that use it). It's not quite finished yet but apparently all the major work is done and some ported games are already being played. I'm yet to see this for myself, but if this all works out then it could be very good news! The first release might be any day now, apparently.
In August 1995 Andy Southgate release the third and final major release of his impressive free Acorn games programming library, GameSuite, used in both Asylum and Oddball. Now Andrew Hill has decided to resurrect development and has set up a discussion group for people interested in using and developing it. (Note that is not connected with the Grasshopper Software product called Games Suite (see this very old news article).
If you like playing the board game Risk then you might appreciate some new maps for the Acorn version of this game.
If you're a Repton fan then you might appreciate a new RISC OS desktop version using the maps from the original BBC Micro Repton 3 and its various add-on level sets. ProAction Software's new release costs £14.90 and is available from APDL.
Platform puzzler Botkiller 2 has been rereleased as freeware and is now available for download from Artex's website. Even if you already own the game it's worth downloading because it includes a level designer.
If you yearn for the days of the original Archimedes welcome disc or the first RISC OS application discs then take a look at Archiology, where you can download thse and more!
If you like playing Shanghai, described as "the ancient Chinese game of Mah Jongg," then you might want to download this new version (1.05).
The 4th Dimension claim that most of their releases are now RISC OS 4 and StrongARM compatible - there's a full list on their website.
Descent 2 did get the updated version described in the news story on from the 25th of August. The new release saw the addition of network play as well as an optimised ARM710/ARM7500 version - but the publishers R-Comp note that they "wouldn't encourage users of these machines to purchase the game as a single player title."
I don't think I've mentioned this before, but if you're ever looking for an Acorn game or other download or website then it's well worth trying AcornSearch.
As the large number of stories in this group also reveals, you might have noticed that there have been a limited amount of updates over the past couple of months (ie. none!) - sorry about this, but at least I've now submitted my Ph.D thesis. :)
31/8/01
If you've never experienced Emotions, the wonderfully inventive and witty platform game from GEK, then you've now got a second chance since it's being rereleased as part of a new compilation CD by APDL/ProAction. Repackaged along with 32-bit versions of classic games Frak and Joust, and also joined by shoot'em'up EuroBlaster, this is all pretty good value at £9.90 plus £1 P&P so long as you have the requisite Risc PC 600 or above (although in my opinion Euroblaster and some levels of Emotions are a little slow without a StrongARM). Back to Emotions, check out the review to see what Acorn Gaming thought.
A few things I've been meaning to mention for a bit:
If you own racing game BHP then you might like to try out the two extra tracks on R-Comp's website
Fantasia FAN announced earlier this month that they were still working on Toy Party and have also been working on a generic library to allow other games to be written more quickly. They promise more news soon.
Talking of Fantasia, this is a good place to mention that I also noticed that their previous title, the originally hugely-overpriced Wizard Apprentice, is now available at a bargain price of £6.90 from APDL - if you like puzzle games then it's not bad at all and well worth taking a look at.
30/8/01
Andreas Dehmel's free Doom It Yourself, which lets you play Doom and variant games, has been upgraded to reach the impressively high version number of 4.3. This new release seems to mainly provide bug fixes as well as anti-aliased maps and optional 16-bit sound. Bear in mind you need to have the GCC C compiler installed to use it, though, so this isn't for everyone - it's available from Andreas's website.
Andreas has also ported WARM, which is a utility for manipulating Doom and Hexen WADs - the files which make up the game level maps and other data. The main use for this is to optimise manually-built levels - see Andreas's website for details.
If you're a Starfighter 3000 fan then you might be interested in the latest game editing utilities from Christopher Bazley. SFskyedit is a new edition to his suite of editors and is designed to let you create your own backdrops and atmospheres, and there are also new versions of a few of his other utilities. Take a look at his webpages.
25/8/01
Descent 2 is on its way to getting two new updates - the first of these will add network play support so you can prove your space-ship flying skills against an internet friend/enemy, and in its development form its apparently running already although there's still plenty of debugging and frontend work to do. The other additions will be machine-specific optimisation to hopefully bring framerates on ARM710 and ARM7500 machines up to a playable speed. You can read more about Descent 2 here on R-Comp's website.
22/8/01
Jason Tribbeck has released a new game, ArcCommand. It's a rotating space-set shoot'em'up based on the classic BBC game Starship Command. You can download the beta release from his website.
There's a new release of Super Methane Brothers, the simple platform game. This fixes a few bugs and adds some minor changes.
VOTI have reopened their website, allowing access to the development screenshots of their games referred to in earlier stories
8/8/01 (updated 15/8/01)
If you've tried to look at the VOTI development shots referred to in the previous news story then you may have found that the links failed, due to VOTI taking down their website. Until VOTI open their site again, for Internet Explorer-compatible browsers (sorry!) I've placed local cached copies of the information here: EMD, EMD cars, Overcast 2 and Sumisu San. (If you don't have IE then try it anyway - it might work - and if it fails then you can download the files and drag them into a picture viewer by hand; you might also need to change '\'s to '/'s in the links!)
---
...this page last updated: 5/4/2003...
...back to the top...