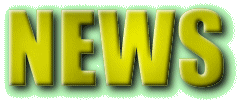 april 2001
14/4/01
R-Comp have a big new release scheduled in for the forthcoming Wakefield show towards the end of May. Descent 2, as its title suggests, is the sequel to true 3D maze shoot'em'up game Descent. With the Acorn conversion being handled by prolific emulator porter David McEwen (see the emulation section for countless examples of his work), a better display is promised than was provided by the PC original, with bilinear filtering and 16- and 32-bit display options. Despite being notably more complex than the original game, Descent 2 runs at around the same speed thanks to David having rewritten big chunks of the game in assembler, and it runs smoothly even at 640 by 480 on a StrongARM. The game should be playable on ARM7500 machines, and it's arguably okay on ARM710s too. These extra display options have also been added to Descent, which has now been optimised by David to run faster than the original release.
Staying on the subject of R-Comp, little has been heard of their promised Krisalis games compilation CD recently (see the database for a comprehensive list of Krisalis games). R-Comp tell me that it is taking time to obtain the necessary permissions required to release the CD. The compilation will include versions of older games modified to run on new machines and onscreen documentation as well.
In a new article here on Acorn Gaming, Sean Creech takes a light-hearted look back at the first days of Archimedes games from his point of view inside Minerva, publishers of the first ever 32-bit Acorn game, Minotaur.
Proaction have released a new version of their Superior compilation CD - see news story from January for more details. New customers or existing ones who returned their CDs should have received their replacements by now.
If you're an ex-BBC owner, or you've checked out one of the various emulators available, then you may have come across Dare Devil Denis, a simple but addictive game that mainly tests your reactions more than anything else. BeebIt author Michael Foot is developing a utility to 'convert' BBC games into 32-bit Acorn games, and the first example of this is a new version of Dare Devil Denis - pop along to his website to take a look!
9/4/01
New previews - Darklands development demo and screenshots, plus details of forthcoming Mario Party-like team game Toy Party
february 2001 news
(no news for March 2001)
---
...this page last updated: 2/9/01...
...back to the top...