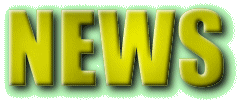 april 1999
23/4/99
Botkiller 2 is now very near to release. I've been playing a virtually finished version recently (only a few sound effects remain to be added) and I'm pleased to reveal that it manages to retain all the addictive playability of the original freeware version (available from Artex's website), and whilst the graphics are greatly improved the charm has not been lost. Most importantly, the puzzles are just as fiendish! Take a look at the preview for more details
Anyone looking for a pleasant-enough free game to while away a bit of time could do a lot worse than taking a look at Matthew Wilson's new freeware release, Caves. You fly a ship/buggy across a scrolling level avoiding aliens and solving puzzles. Alternatively you could take a look at Darren Green's two new releases - a PacMan-type game and a puzzle game - available from his website
Owners of 2D space game SunBurst might like to know that they can download some development voice samples for the game which were left out of the finished version. These are available from the VOTI website
Peter Teichmann has updated ArcQuake so that it runs between 5 and 10% faster, thanks to new floating point routines he's written. When combined with the PAK files from the original game ArcQuake allows you to play Quake on your Acorn machine, although it needs a StrongARM to run at a sensible speed. (Full history of Acorn Quake)
9/4/99
Doom aficionados will be pleased to hear about some new improvements to R-Comp's Doom+ Acorn version of the game. In addition to the existing extra features - such as a proximity sensor and head-up-display mapping - a new version due for release soon will include various improvements for multi-player gaming. These include the ability to attach names and weapon names to players, brief invulnerability after resurrection and various level-finishing options. Counters on the screen now display a summary of all player deaths ('frags') and the setting up of a network game has been made much less error-prone (anything has to be an improvement over the previous completely broken version!). Other improvements to the game come in the shape of texture filtering and options to set the spread of plasma weapons, as well as a few fixes to allow more add-on level files (pWADs) to work.
Cheap Games Developers have asked me to announce that you can download Wubble from their web site. It's a very simple block-pushing game that costs £5 to register - but it really is so primitive that I can't imagine anyone ever paying the money.
Stephen Scott has announced that he's decided to discontinue work on his free RISC OS Jaw Wars game in favour of using Director 7 to produce a Shockwave version for web play (but not on Acorns, since we don't have a suitable player)
---
...this page last updated: 10/9/99...
...back to the top...