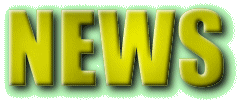 august 1998
note that links on this page are no longer guaranteed to work due to the redesign of the site
26/8/98
News has been accumulating over the past few months of various Acorn gaming projects which are under way, but which I'm not allowed to name yet - but it's fair to say that if all goes according to plan then we'll be seeing a top-quality home-grown 3D game based on a classic of yesteryear (this might even be free), as well as a similarly home-grown tactical combat turn-based RPG game; both of these projects are from people with successful track records. Furthermore, work on Insomnia's huge budget game (see an old news story) is apparently continuing (Andrew Docking, author of Drifter is in charge of the project), and Artex are currently working flat out on something other than Tek...

If you're an owner of Artex's excellent point-and-click adventure, Ankh, then keep an eye on their web site for a bug-fix upgrade due out soon

Kevin Bracey's free and unbelievably good 'interactive fiction' game player (ie. adventure games!), Zip 2000, has been upgraded again (to version 1.32). The source code is now also freely available, too

R-Comp Interactive have announced that work on their Acorn version of the freely-moving 3D shoot'em'up Descent is now nearly complete, and it will run in varying numbers of colours at resolutions up to 1600x600. The initial release will only work on StrongARMs, and is expected to be on sale within three weeks. R-Comp have also (in a round-about way) announced that they are working on an Acorn port of Heroes of Might and Magic 2, a PC fantasy strategy game

24/8/98
Prolific emulator-porter David McEwen has produced a new version of his ColecoVision emulator as well as a new Atari VCS 2600 emulator. David is also working on a new NES emulator which runs considerably faster than xNes (and its derivative in MESS) - it's being improved daily and it should be on the forthcoming Acorn User cover CD-ROM 4. An improved version of MasterGear (an 8-bit Sega emulator) is also on its way from David, with pre-Risc PC and full sound compatibility. More coverage

19/8/98
Artex Software have announced a sequel to their popular freeware platform game Botkiller. Imaginatively entitled Botkiller 2, the successor has been completely recoded and now features large, scrolling levels, higher-quality graphics and sound, and many new gameplay features. Also added is a price, however - this new version will cost £10. Botkiller 2 is due out in "about" two months.

Acorn MAME now emulates 702 arcade machines, and Acorn MESS, the games console emulator, has been upgraded to version 0.02 beta 4.1

16/8/98
R-Comp Interactive have announced that they intend to develop a Risc PC 2 (Phoebe) driver for the Voodoo 2 3D accelerator card. These cards provide hardware assistance with the display of 3D models, allowing much more life-like 3D graphics - with such a card the Phoebe would have better graphics performance than popular consoles such as the PlayStation or Nintendo 64

A demonstration copy of Robert Templeman's Eternal Destiny is now available from his web site (but is nearly four and a half megabytes big and requires a minimum of 16Mb memory). 32-bit Acorn Gaming has written a full review of the game, which has now been released, but has decided to withhold it temporarily to give Robert a chance to improve many of the criticisms of the game

---
...this page last updated: 6/2/99...
...back to the top...