Paradise
Toybox Dreams

Scheduled for release into Paradise's budget range is a new arcade-style platform game, Toybox Dreams, which will allow two players to play simultaneously (its previous working title was Colin and Suzie's Dreams, and prior to that Pocket Money). When released it will join existing titles Inferno and Overload.
The game features 20 varied levels, featuring manic toys, greedy fruit, sweet bonuses - and food and coins to collect! Each level ends with a fast gruit-grabbing bonus level, following which you're given a password to the next stage. Although a two-player game, players can play either against or with each other as they like. It's due to cost £12.99.
---
An unplayable demo of Toybox Dreams (still called Colin and Suzie's Dreams at that point) was on the Acorn User 200th edition CD.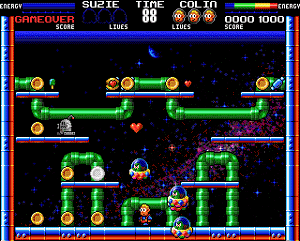 Further details on these and other Paradise developments can be found by browsing Paradise's attractive web pages at http://www.paradise-uk.net.
---
...this page last updated: 2/7/00...
...back to the top...