Overview - Descent
A few years back, following the staggering success of 3D shoot'em'up Doom, the PC played host to the first truly 3D maze exploration and shoot'em'up game - Interplay's Descent. The game added wildly to the complexity of Doom by placing the player in a totally free 3D environment, in which they could move with complete freedom in all three dimensions. The player travelled around in a small spacecraft, with no concept of "up" or "down" or even gravity, which was a very disorientating concept for many players. Using a full 3D map, it was hailed as far too complex by some and as amazingly brilliant by others. Since then it has seen a sequel, the imaginatively titled Descent 2, and ports to other platforms including the Sony Playstation. Now it has finally been released for consumption on the Acorn platform.
The Acorn version offers screen resolutions up to 1024 by 768 pixels, with a choice of 256, 32,000 or 16 million colours on screen. Music can be played either direct from CD or via MIDI, and users with 16Mb or more get extra sound effects. The game is supplied with over 100 extra missions, too, over and above the actual core Descent missions.
The game will run on any Risc PC with an ARM 710 or StrongARM, but a StrongARM is strongly recommended since the game will be quite slow - just about playable - on an ARM710. A minimum of 8Mb of RAM and 20Mb of hard-disc space is required, and you need a CD-ROM drive.
Acorn Descent is available now direct from R-Comp, and costs £30 plus between £2 and £5 postage and packaging. R-Comp take orders by phone, fax and email.
---
How Descent reached Acorns
Earlier this year the PC source code was made available for free use "in perpetuity". This source included heavily-optimised assembler sections. None-the-less, Jack Parkinson began porting the game almost straight away, and he soon gained the attention of R-Comp (having also been in earlier contact with them when R-Comp had requested him to withhold his free port of Doom from release, a request with which he had complied). R-Comp offered to try to get the rights to publish his port of the game in an official Acorn version. Later some C source code for the Mac also became publically available, which made some of the tasks involved in porting the game a bit easier.

At about the same time Matthew Bloch and Rik Griffin also started work on a separate freeware port of the game (much the same as Jack Parkinson's original intention prior to R-Comp's intervention), but without the knowledge of R-Comp. It was not until later in the development of the game that both sides learnt about each other, and R-Comp made various moves to attempt to persuade the authors of the non-commercial version to abandon their port. They rejected these moves, although it was always clear that R-Comp's version was superior in some regards, as one would naturally expect of a full commercial release.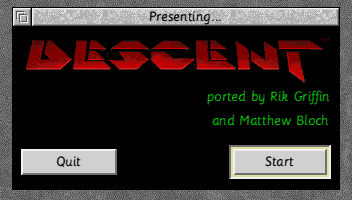 The free version, however, appears now to have been abandonded, at a state in which it still requires a fair amount of work, and it is unclear whether time will ever be found for this. The commercial version, on the other hand, is available now and comes complete with the level files which would need to be purchased separately for use with the freeware version.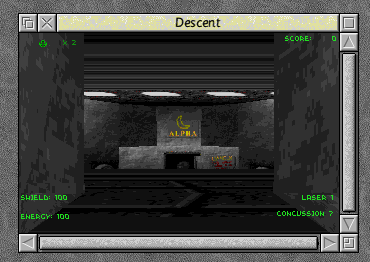 Free Acorn Descent running in a desktop window
---
...this page last updated: 26/9/98...
...back to the top...