Free Games
DinoSaw

DinoSaw is a great little platform game from prolific Acorn games creator, Tom Cooper. You play a caveman (who just so happens to carry a chainsaw with him everywhere) who is wandering around a prehistoric land looking to kill similarly prehistoric animals. The game is simple in style and has been done many times before - but not with the Tom Cooper touch!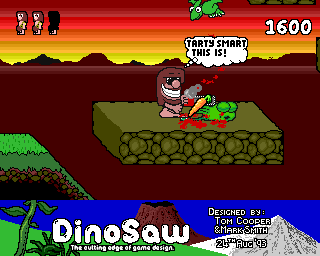 Look at all that blood!
The graphics are typical Cooper cartoon-style with no great detail but are larger than life and twice as bright. The music consists of a superb little rock tune with great electric guitar solos part way through and although there are no sound effects the music makes up for it.
Some superb minor features have been added, such as when you hit the monsters you get to see their blood flying around everywhere which is a gory but nice touch which makes the game surprisingly fun to play. As you stroll around the levels you find different types of monster which take different amounts of bashing to kill (look out for the woolly mammoths which take ages to dispense with). The caveman also utters humorous comments cartoon balloon style, with adverts for Tom's other games and other little gags including a bimbo cavewoman at one point.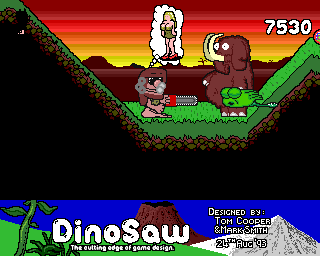 Not so interested in the mammoths right now...
There are only four levels in this free version, but originally there was also a full version available for a fiver with more dinosaurs, more levels and a two-player mode, but Tom has now left the Acorn scene (to work for Psygnosis) so this may not still be available.
| | |
| --- | --- |
| Overall: | 8/10 |
| Players: | 1 |
| Review by: | David Sharp, 19/5/98 |
---
...this page last updated: 23/8/98...
...back to the top...